At our core, we are true craftsmen and designers. We build experiences by combining aesthetics, technology and high caliber construction. Our drive and motivation is to communicate your brand and bring your story to life. It takes more than technical know-how to do what we do. It takes listening. It takes hard work. And it takes putting our customers first. Because at the end of the day, our work isn't about us, it's about you. It's how we craft authentic projects for our clients, and why they choose us to tell their story.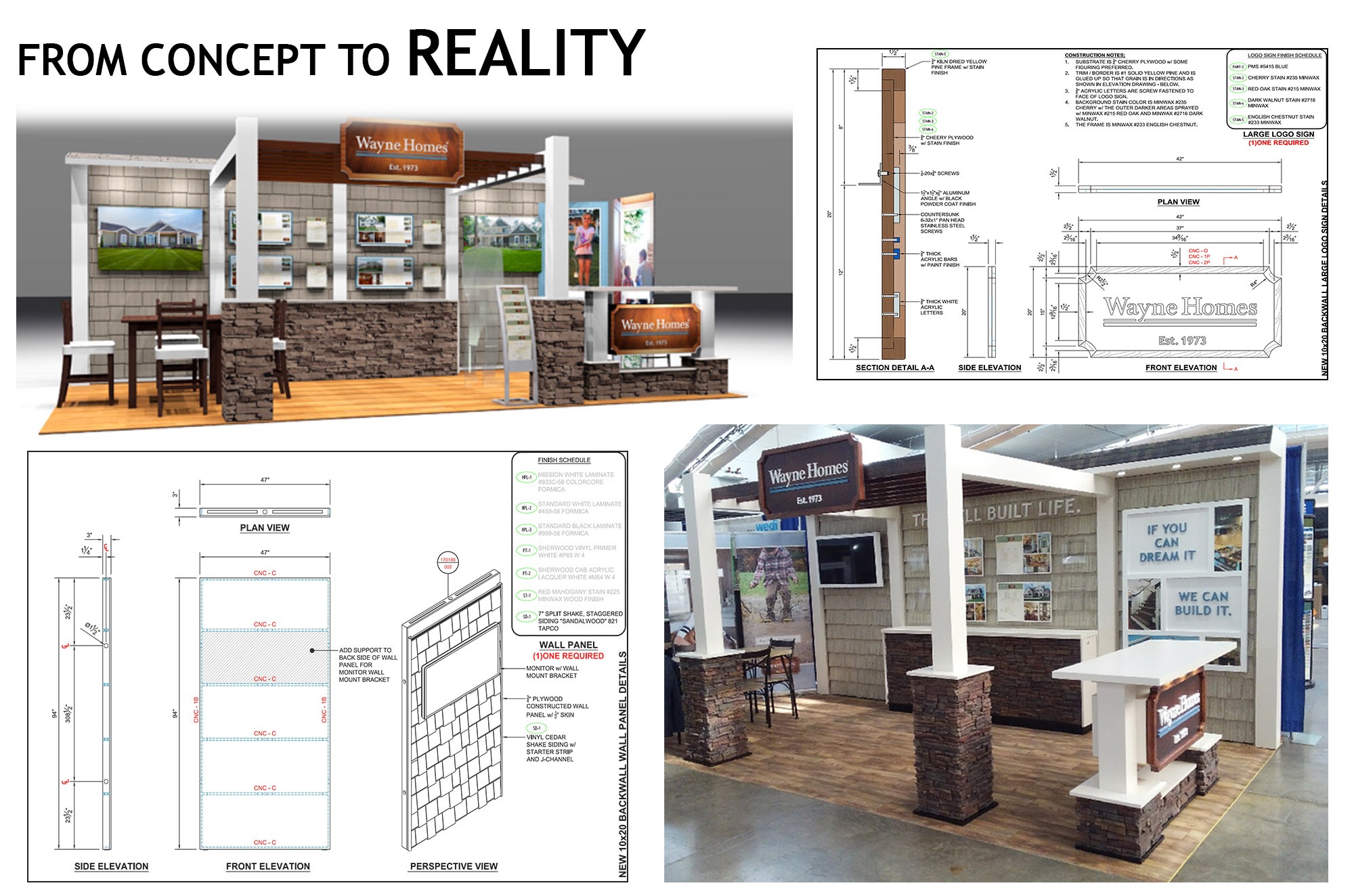 Capabilities
01
Design
With a team of full-time, highly trained designers, we take your vision and make it a reality through renderings and drawings. Whether designing a tradeshow booth, corporate environment, museum exhibit, or branded signage, we provide professional, high-quality designs.
02
Fabrication
Utilizing high quality materials, our professionally trained carpenters with generations of experience bring your project to life. With experts in woodworking, plastics, metals, and a CNC Router on-site, our craftsmen are equipped to provide high-end construction.
03
Warehousing
From exhibit properties to event materials, with over 100,000 square feet of local warehouse space, we have what it takes to accommodate your storage needs. In addition, we work with many trusted storage partners in cities such as Las Vegas, Chicago, and Orlando.
04
Logistics
Comprehensive logistics management services ensure your property gets to where it needs to be safely and on time. We hold valued partnerships with many freight carriers throughout the U.S., so you can rely on us for all your transportation needs.
05
Site Management
Let us worry about the details, so you don't have to. We offer turnkey site management services. Whether ordering show site utilities, or supervising the installation and dismantle of your tradeshow booth; we have you covered.
06
Event Management
From the development and creation of large-scale events, to site selection, coordinating staffing, logistics, set-up and tear down, we manage your event from start to finish.
Our History
Our family has been in this business for over 50 years. In that time, we've always embraced a spirit of creativity and collaboration. Our sense of partnership is what fuels our commitment to setting industry benchmarks for customer service, employee well-being and production standards. It's how we've always operated and how we'll continue to do so for years to come.